Alpine Energy Timaru Municipal Brass
Founded in 1867, the Alpine Energy Timaru Brass Band, also known previously as the Timaru Municipal Band, is a member of an illustrious group of New Zealand bands - being over 150 years old. The band celebrated its 150th in June, 2017, and is one of only a handful of bands in New Zealand to have existed for so long.
Alpine Energy Timaru Brass is the only band from Timaru, and is an organisation which not only contests at regional and national level, but also aims to serve the public, with concerts each year and civic duties. The band consists of about 30 members, with MD Shane Foster in charge since June 2016, and President Carolyn Parr, since November 2017, alongside an Executive Committee consisting of players of various backgrounds, ideas and experience to run the band by the day.
Timaru Concert Brass is the development band, aimed at appealing to players who are newer to playing, or are too old or over committed to keeping up with the Senior Band, or even those who are looking for more of a casual band to play with. Timaru Concert Brass is aptly lead by Phil Bettany, who is also a member of the Senior Band.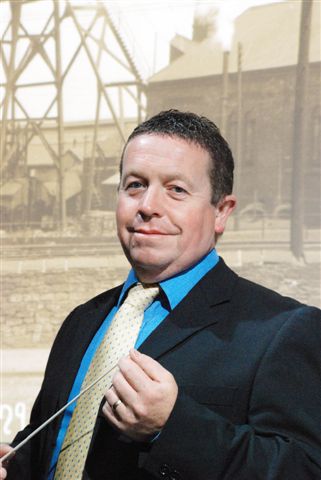 Shane Foster - Musical Director
Shane, originally from Lancashire England, commenced his brass playing career at a young age, joining his local colliery band on Cornet, then moving to Soprano Cornet when he was twelve. By the age of sixteen, Shane held the highly coveted Soprano Cornet seat at the famous champion band CWS Manchester, under the musical direction of the renowned conductor and radio presenter Frank Renton.

Over the next twenty five years, Shane played Soprano under the direction of some of the UK's top brass band conductors, at various Championship bands in the Yorkshire and Lancashire areas. These included Grimethorpe Colliery, Yorkshire Imps, Brighouse & Rastrick and Fodens. He also worked with local bands, Wingates, and notably, Leyland Vehicles Band, under the directorship if the dynamic and charismatic conductor and band tutor, Richard Evans.

In the year 2000, Shane retired from full time playing to concentrate on his conducting career, working hard with brass bands in the Lancashire area, gaining excellent results at both regional and national contest level.

In 2004, Shane was appointed MD of the Yorkshire Electric Driglington Band. This became a very successful partnership, culminating in taking the band from the Second section, through to qualifying to compete in the Championship section, Yorkshire area, in under three years.

In 2006 Shane moved permanently to New Zealand with his family. Since that time he has conducted and trained bands nationally, both in New Zealand and Australia, on a freelance and resident MD basis.

In recent years, Shane has been invited to Adjudicate at the New Zealand Brass Band Nationals and various provincial contests around the country. Shane is a member of the National Association of Brass Band Conductors and the National Association of Brass Band Adjudicatiors UK.

Shane joined Alpine Energy Timaru Brass in June 2016, and since then has managed a very pleasing record of winning trophies within the B Grade at Canterbury, Blenheim and Otago provincial contests. Shane also steered the band to their first National Contest since 2014, where they placed 7th in the B Grade at Blenheim Nationals 2018, with highlights of 2nd in the Marching and Hymn.